Name
Buzzsaw
Faction
Decepticon
Function
Reconnaissance
Alt Mode
Cassette
Type
FC
Profile
"My bite is worse than my bark."
A reconnaissance expert with a certain artistic flair, he approaches each new mission as though working on a new masterpiece. His perfectionism and large ego often cause him to sulk rather than proceed if his plans go astray. Can pinpoint and photograph a thumbtack at 20 miles, and fly at 250 mph soundlessly. Carries twin mortar cannons. Diamond-hard, micro-serrated beak can carve up almost any opponent.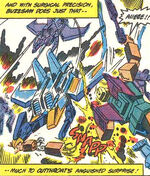 History
Buzzsaw is one of 
Soundwave's
 creations; a very devious and cunning spy and sabateur. His service record appears, superficially, to be sparse, but he has seen action on 
Earth
, 
Cybertron
, and various other locations on which the 
Decepticon
 forces have required intel, forward scouting, and even a few scare tactics here and there. Truthfully, if you know Buzzsaw has been there, then he has done his job incorrectly.
When developed, Buzzsaw's primary role was that of a reconnaissance scout and intelligence gathering 
operative, but he quickly developed skills in interrogation tactics, honing them into a perceived artform. This has also been rumored to be his method for coping with the often times crude tactics employed by most Decepticons he works with on a regular basis.
Not the most offensively capable of the Cassetticons, he is one of the more fearless. The notion that he is indistructible is not foremost on his mind, but his precision with his own weaponry, including the dreaded beak that has claimed many optics, arms, and other limbs, gives him an air of superiority in the field. This, partnered with his own sadistic, almost 'artistic' mindset towards interrogation tactics and instilling fear amongst both Autobot and Decepticon operatives alike have melded together to forge a unique superiority complex within the Cassetticon himself.
Not that it is entirely undeserved.

Notes
Buzzsaw is the yellow one.
He believes everyone can only exist under two categories: Decepticon or Uneducated.
The Uneducated will be punished.
Buzzsaw's quote is accurate. This is only because he can't actually bark.
All conversations will be recorded for Quality and/or Training purposes.
A little class goes a long way.
His mortars are loud and destructive, but his music is always classy.
Logs
LogGrabber - 52 page(s) found in 0.232 sec. (2017/08/18 01:22:58)
Players
Ad blocker interference detected!
Wikia is a free-to-use site that makes money from advertising. We have a modified experience for viewers using ad blockers

Wikia is not accessible if you've made further modifications. Remove the custom ad blocker rule(s) and the page will load as expected.