Name
Eject
Faction
Autobot
Function
Electronic Surveillance
Alt Mode
Cassette
Type
FC
Profile
"Clutch hitting is the key to an effective offense."
An Earthen sports fanatic. Sports cliches clutter his conversation; a surprise attack is a 'fast break', a victory is a 'touchdown'. Few Autobots understand what he says, but they like the enthusiasm with which he says it. Could be a play-by-play announcer if given the chance. In tape mode, can monitor and record local radio and TV signals, decode scrambled signals, and tap telephones. In robot mode, uses electrical overload guns. Sometimes internal tape snaps when he's excited.
History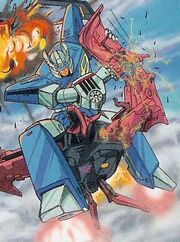 Notes
Eject is the least MOST interesting of the Autobot tapes, and possibly of any of the tapes.
Has a tendancy to call Ultra Magnus 'coach'.
Can give John Madden a run for his money.
Scored four touchdowns in a single game.
Knocked out Galvatron once.
Logs
2030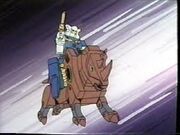 2031
Players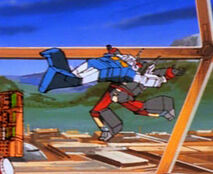 Formerly: Dinobut, Hikage2k5, Ion Tzil'macht , Krazylegz24
Ad blocker interference detected!
Wikia is a free-to-use site that makes money from advertising. We have a modified experience for viewers using ad blockers

Wikia is not accessible if you've made further modifications. Remove the custom ad blocker rule(s) and the page will load as expected.