Name
Fireflight
Faction
Autobot
Function
Reconnaisance
Alt Mode
RF-4S Phantom II
Type
FC
Profile
"When I'm flying, no enemy is safe - nor friend"
A hazard in the skies - too busy admiring the scenery streaking past below him, to pay attention to where he's going. If Aerialbots needed pilots' licenses, he'd never have gotten his. Carries flammable 'fire-fog' missiles and fires photon displacer gun that affects sight by distorting light waves. With fellow Aerialbots he forms Superion.
History
Notes
Fireflight's not bad at the technical aspects of flying. He just has a terrible case of ADD. If he's playing attention, he can turn and burn with the best of them. The problem is, after about ten seconds, he thinks, "OK, I got this" and starts thinking about something else, which leads him to drift off course and smash into things. (He'd make a terrible medic.)
As an RF-4S, he's outfitted with a tailhook for carrier landings, has slatted wings (the upturned outboard quarter or so of the wings can fold up to perpendicular with the ground for tighter packing aboard a carrier), and has three high-power cameras, one each in the top and bottom of the fuselage and one in the nose.
Logs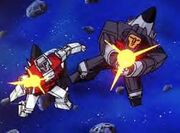 2029
Stolen Thunder - Whilst the Autobot attack on New Crystal City distracts the Decepticons, a task force attempts to hijack Thunderwing's shuttle and steal the new shipment of Pretender shells.
Sogo City Of Night - The Seacons have stolen the Core of Sogo, City of Night. But what starts as a simple recovery mission soon becomes complicated in the city that never sleeps.
Mishap in trouble - Fireflight makes an ill timed joke which leads to drawn weapons and locker searches
2030
Players
Previous - ?
Current - Gyroscope from 11 October 2014 to present.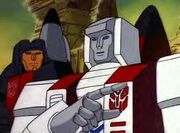 Ad blocker interference detected!
Wikia is a free-to-use site that makes money from advertising. We have a modified experience for viewers using ad blockers

Wikia is not accessible if you've made further modifications. Remove the custom ad blocker rule(s) and the page will load as expected.