Name
Headstrong
Faction
Decepticon
Function
Ground Assault
Alt Mode
Rhinoceros
Type
FC
Profile
"The best advice is not to listen to advice."
Doesn't listen to anyone, particularly his friends. Smug, arrogant. Puts up a stubborn front to hide deep-rooted insecurities. More vulnerable to psychological rather than physical attacks. In rhinoceros mode, his horn can puncture 3 foot thick steel, release corrosive acid. Uses plasma-sphere shooter that emits explosive energy balls; has light distorting diffraction sword. Combines with fellow Predacons to form Predaking.
History
Notes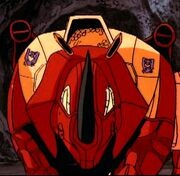 Logs
LogGrabber - 7 page(s) found in 0.046 sec. (2017/07/23 06:35:20)
Players
Ad blocker interference detected!
Wikia is a free-to-use site that makes money from advertising. We have a modified experience for viewers using ad blockers

Wikia is not accessible if you've made further modifications. Remove the custom ad blocker rule(s) and the page will load as expected.