Name
Lightspeed
Faction
Autobot
Function
Data Processor
Alt Mode
Car
Type
FC
Profile
"Space travel is the only flight to freedom."
He longs to be reconstructed into an interstellar spacecraft so he can explore the vast gulfs of space; feels he's a prisoner of gravity in his present form. In jet car mode, goes from 0 to 500mph in 8 seconds. Cruising speed: 300mph. Has twin infra-red scope missile launchers. In robot mode has blinding light-burst gun. Combines with fellow Technobots to form Computron.
History
Notes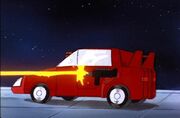 Lightspeed tends to be good natured but don't underestimate him, smart guys can jest with you right back, just as much as the next guy.
Is like the fifteenth Autobot who doesn't like his alt-mode.
Lightspeed is a huge nerd.
No matter how many AP you have, Charstaff won't approve a Rebuild to a spaceship.
Logs
2031
Players
Ad blocker interference detected!
Wikia is a free-to-use site that makes money from advertising. We have a modified experience for viewers using ad blockers

Wikia is not accessible if you've made further modifications. Remove the custom ad blocker rule(s) and the page will load as expected.