Name
Outback
Faction
Autobot
Function
Gunner
Alt Mode
Jeep
Type
FC
Profile
"Rules are detours on the road of life."
Thinks going by the book is going the long way. Doesn't follow plans -- or roads! Cuts across parking lots, sidewalks, or backyards to get where he's going. Travels at 110 mph, range 800 miles. His 4-wheel drive handles the roughest terrain, climbs grades up to 50 degrees. Carries turret-mounted mortar cannon that shoots armor-piercing shells.
History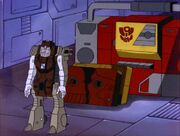 Notes
Outback was killed by a turbostingray. :(
Has an Aussie accent.. no one's sure why.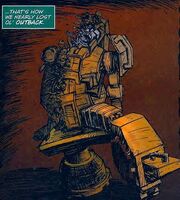 Logs
Players
2002 - mid-2003: ljacone
Ad blocker interference detected!
Wikia is a free-to-use site that makes money from advertising. We have a modified experience for viewers using ad blockers

Wikia is not accessible if you've made further modifications. Remove the custom ad blocker rule(s) and the page will load as expected.