Name
Perceptor
Faction
Autobot
Function
Scientist
Alt Mode
Microscope
Type
FC
Profile
"One's ultimate truth lies in one's molecular structure."
Has an unquenchable thirst for knowledge, sometimes to the exclusion of all else. Highly intelligent, though becomes absent-minded when caught up in his research. Scientific specialties are metallurgy, molecular chemistry, electrical engineering. As a microscope, he is capable of powerful magnification. Lens barrel converts to powerful light cannon. Carries concussion rifle in robot mode. Lenses are his weakest part.
History
Perceptor got tired of being the stereotypical genius and decided to become a badass sniper.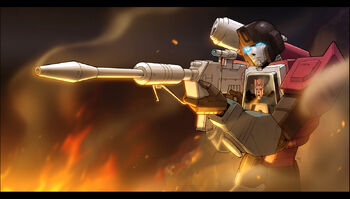 Notes
Perceptor can speak in extraordinarily verbose "scientific" language.
Perceptor frequently keeps to himself, spending virtually all of his time in the lab.
Perceptor is smarter than you.
Perceptor is an Autobot just like any other. Given to the same feelings, thoughts, and actions.
Logs
Logs
LogGrabber - 78 page(s) found in 0.706 sec. (2017/07/23 06:36:07)
Players
Ad blocker interference detected!
Wikia is a free-to-use site that makes money from advertising. We have a modified experience for viewers using ad blockers

Wikia is not accessible if you've made further modifications. Remove the custom ad blocker rule(s) and the page will load as expected.