Name
Ratchet
Faction
Autobot
Function
Medic
Alt Mode
Ambulance
Type
TP/OOC
Profile
"You break it, I'll remake it."
Ratchet was the best tool-and-die man on Cybertron. In his workbay he could make anything from a pin to a missile. Repaired injured Autobots, given the right parts. Liked to party, give backtalk, but did any job as well as anyone. Had laser scalpels, arc-welders, electron microscopes, circuit sensors, fluid dispensers at his disposal. Sometimes his having a good time interfered with his effectiveness.
History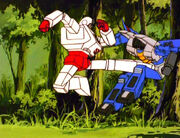 Ratchet was a member of the crew of the ill-fated Ark mission that brought the Transformers to Earth. In 2005, while on a shuttle run to Earth, he was killed by Megatron, Starscream, and the Constructicons in the course of their ambush of the shuttle, directly leading to the Battle of Autobot City.
Notes
Ratchet is dead, but Peacekeeper is known to cosplay as him.
Ratchet has a sister, apparently. We're so, so sorry
Logs
No sorry he is dead.
Ad blocker interference detected!
Wikia is a free-to-use site that makes money from advertising. We have a modified experience for viewers using ad blockers

Wikia is not accessible if you've made further modifications. Remove the custom ad blocker rule(s) and the page will load as expected.