Name
Roadbuster
Faction
Autobot
Function
Ground Assault
Alt Mode
Jeep
Type
FC
Profile
"War is a dirty business... and I'm as dirty as they come."
Likes to pass the time "demolishing Decepticons". Not happy if not fighting, bores easily, quietest of the Autobots when not in battle. When in combat, Roadbuster is charismatic, and inspiring to fellow warriors, a natural leader. Can traverse most terrains in his rugged jeep mode, 600 mile range. Carries turret-mounted linear blaster gun that can blow a hole in 2-foot thick concrete. As a robot, armed with a laser rifle and shrapnel-missile launcher.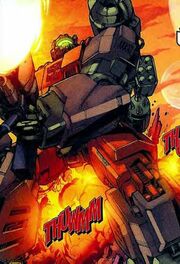 History
Notes
Roadbuster possesses a medal for Autobot Highest Scientific Achievement after his proposal to use napalm on alien villages to somehow create energon won a competition
Roadbuster is not allowed to join the Autobots on invitations to speak at the United Nations after the "Charlie's in the trees!" incident.
Roadbuster would mop the floor with He-Man.
Roadbuster loves guns. And apparently likes naming them too. Say hello to 'Velocitas Eradico' linear cannon, 'Bombshock' explosive launcher, and 'Mugen Calibre' Rapid-Fire Automatic Assault Rifle.
Anyone that gets those references above gets a free can of energex.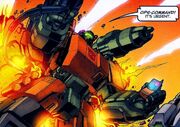 Logs
LogGrabber - 35 page(s) found in 0.179 sec. (2017/07/21 04:44:44)
Players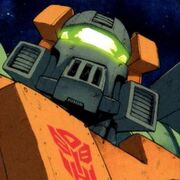 8-10-2014 - Spindrift
6-25-2010 - Redshift
12-3-2009 - Ryan
Ad blocker interference detected!
Wikia is a free-to-use site that makes money from advertising. We have a modified experience for viewers using ad blockers

Wikia is not accessible if you've made further modifications. Remove the custom ad blocker rule(s) and the page will load as expected.