Name
Sandstorm
Faction
Autobot
Function
Reconnaisance
Alt Mode
Helicopter / Dune Buggy
Type
FC
Profile
"When the smoke clears, I've cleared out."
Always takes death-defying risks - in vehicle mode, gets close enough to count the bolts in Decepticon armor plates. Anything less than dangerous is boring to him. As helicopter and dunebuggy, adept at using rotors and exhaust to whip up blinding clouds of dust and sand. Extremely manueverable. Helicopter speed is 220 mph, range 600 miles. Dunebuggy speed is 100 mph, range varies with terrain. Carries sandblaster gun that can erode anything.
History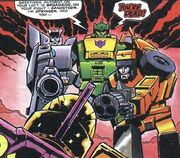 Notes
When fighting Seekers, Sandstorm likes to borrow Jet Judo from the twins.
WRECK AND RULE! Must be used at least once per battle scene. Its in the Wrecker contract.

Sandstorm's Acceptable Substitutes: Check It and Wreck It, Check-in Then Wreckin', Wreckin' Around, Wreck Like Heck!
Unacceptable Substitutes: Time For Some Wrecksual Healing, Wrecktal Trauma
Notorious for his 'Wrecker Style Backup Plans' which usually involve high explosives.
Logs
LogGrabber - 89 page(s) found in 0.482 sec. (2017/08/16 14:56:31)
Players
Current (2010): Swiftpawwolf
Ad blocker interference detected!
Wikia is a free-to-use site that makes money from advertising. We have a modified experience for viewers using ad blockers

Wikia is not accessible if you've made further modifications. Remove the custom ad blocker rule(s) and the page will load as expected.