Name
Silverbolt
Faction
Autobot
Function
Aerialbot Commander
Alt Mode
SST / Amphibious Armored Platform
Type
FC
Profile
"Don't look down; look straight ahead."
Presents the image of a brave, grimly determined warrior - one that he must struggle to maintain in the face of his secret phobia: he fears heights. Selected by Optimus Prime to command so he'd be too busy worrying about others to worry about himself. In jet mode, has top speed of mach 1.9, range of 4500 miles. Carries electrostatic battery that releases electric bolt of up to 150,000 volts through nose cone. Uses electrostatic discharger rifle in robot mode. Capable of amphibious carrier-mode for land and sea operations, armed with independently targetable rocket launchers. Combines with fellow Aerialbots to form Superion.
History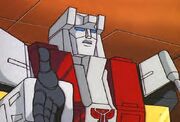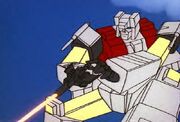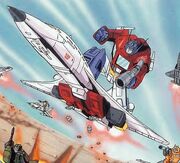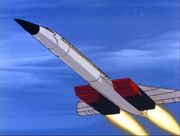 Notes
Has a fear of heights, not many other than command know this though.
Considered switching altmode to a boat, but Broadside has that niche covered.
Logs
2010
2020
2026
2028
2029
Harbinger - The Autobots have a visitor - a very unwelcome and powerful visitor from another world...
2030
Players
Formerly: Dinobut