Name
Slingshot
Faction
Autobot
Function
Ground Troop Support
Alt Mode
AV-8B Harrier II
Type
FC
Profile
"I'm even better than -I- think."
He won't ever win a Mr. Popularity contest - incessant braggart, takes credit for exploits of other Autobots. Rodimus Prime is supportive since he's hardworking and loyal, but Slingshot secretly lacks self confidence. Vertical take-off and landing aircraft. Flies at mach 1.6, range 800 miles, extremely maneuverable. Sharpshooter - has twin mortar cannons as jet, neutron rifle as robot. Combines with fellow Aerialbots to form Superion.
History
Notes
Aside from Powerglide, Slingshot is the biggest arrogant aft the Autobots have.
Self confidence problems MUST be an Aerialbot prerequsite.
Even his Aerialbot brethren can't stand the guy. :/
Logs
2019
2029
The Battle Of Vernier - Scourge has a diabolical plan - to build a gigantic Ultra Mega Vernier in Florida, and use it to spin the Earth off its axis. Can the Autobots stop him?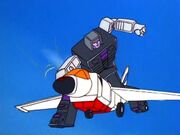 2034
Pacific Tag - Slingshot and Air Raid treat each other like jerks.
Logs
LogGrabber - 18 page(s) found in 0.090 sec. (2017/08/18 16:07:37)
Players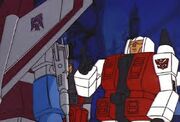 Current : Available
Ad blocker interference detected!
Wikia is a free-to-use site that makes money from advertising. We have a modified experience for viewers using ad blockers

Wikia is not accessible if you've made further modifications. Remove the custom ad blocker rule(s) and the page will load as expected.