Name
Spike Witwicky
Faction
Terran
Function
Military Operations
Alt Mode
N/A
Type
FC
Profile
"Prepare for war, but strive for peace."
Although Spike Witwicky has grown older, his desire to help the Autobots has not diminished. Having survived Megatron's attempts to destroy the Autobots and being devoured by Unicron, Spike assumed to role of Earth Ambassador to Cybertron. Spike has married his first love, Carly and has a son - Daniel, now grown and off at college. Spike's ultimate goal is to rid the world of the Decepticon's evil. Though he tries to be a devoted father, Spike oftentimes finds himself wrapped up in his work to the exclusion of his family: a fact that vexes him to no end.
History
Spike Witwicky is the first human to encounter the Cybertronians on Earth after being re-awakened in 1984. Because of this he's considered to be one of the Autobots' closest friends and allies. He married Carly sometime after the end of Season 2 and the Movie and fathered Daniel, something that most people still hold against him. Now, so many years removed from his encounter with Unicron, his life has taken many turns. He served as Ambassador to Cybertron, accepted two separate nominations to Secretary General of the United Nations, and a Captain in the EDC. Even now, he doesn't let his advancing years slow him down. As far as he's concerned, he's just getting started.
Quote
"
It isn't even dented? Oh shit, what are we going to do now?
"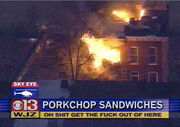 Notes
Spike at one point was the Secretary General of the United Nations.
Then he quit to become Command of Military Operations in the EDC.
Then the United Nations decided to nominate him for Secretary General. Again.
Spike decided to leave the fighting to Briar and his boys, so he accepted the nomination.
Spike cries into his waffles.
Assuming Spike was born circa 1970 (he's pulled over by a cop for being too young to drive in Season 2), he would be around 35 during the events of the movie. The IC year is currently 2035, which would make him about 75 years old.
Logs
LogGrabber - 50 page(s) found in 0.233 sec. (2017/08/22 03:33:12)
Players
Ad blocker interference detected!
Wikia is a free-to-use site that makes money from advertising. We have a modified experience for viewers using ad blockers

Wikia is not accessible if you've made further modifications. Remove the custom ad blocker rule(s) and the page will load as expected.