Name
Steeljaw
Faction
Autobot
Function
Tracker
Alt Mode
Cassette
Type
FC
Profile
"What the eyes don't see, the nose knows."
When he's on the hunt, his prey is as good as caught. Determined, tenacious, coolly professional when on a mission. Likely to trace any scent. Range: 800 miles. Super strong jaws can snap a foot thick steel cable with one bite. Carries two solar-powered pellet guns that fire 1200 rounds per minute. Lack of sunshine hinders the guns' performance. Can electromagnetize himself in cassette mode. Prone to rusting.
History
Notes
One of Steeljaw's favorite things to track is the scent of a woman (hoo-ah). No, it really is.
Steeljaw transforms into The Essential Toto.
Steeljaw is better than Foxfire at everything, including sports.
Steeljaw knows that you need a shower. You can't hide it.
Only The Car can save you from Steeljaw.
Logs
2019
2029
2030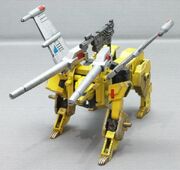 2031
2034
Players
2010 (2031) - Novakitsune

2013 (2034) - Savage Ravage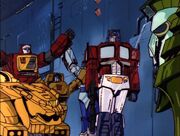 Ad blocker interference detected!
Wikia is a free-to-use site that makes money from advertising. We have a modified experience for viewers using ad blockers

Wikia is not accessible if you've made further modifications. Remove the custom ad blocker rule(s) and the page will load as expected.