Name
Superion
Faction
Autobot
Function
Super Warrior
Alt Mode
None
Type
Combiner
Profile
"To live is to fight: to die is to stop."
A fierce and frightful fighting machine. Rather then waste energy assimilating each of the Aerialbots' personalities into one confusing meld, suppresses his thinking to one primary purpose: the destruction of the Decepticons. Can demolish a battleship with a single blow...flies 800 mph, range 5800 miles. Carries a stress fracture cannon which overloads the natural fracture lines in an object or robot.
History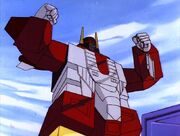 Notes
Logs
Players
Ad blocker interference detected!
Wikia is a free-to-use site that makes money from advertising. We have a modified experience for viewers using ad blockers

Wikia is not accessible if you've made further modifications. Remove the custom ad blocker rule(s) and the page will load as expected.