Name
Twin Twist
Faction
Autobot
Function
Demolitions
Alt Mode
Drill
Type
FC
Profile
"War is wherever I want it to be."
Nothing feels better to him than sinking his drills into a slab of steel. Loves to show off the scrap metal results of his destructive fury. Willing to attack anything, whether enemy Decepticon or harmless lamppost, to the point where Rodimus worries about his wild, uncontrollable nature. Goes 200 mph, and has two 6000 rpm diamond tipped drills. His semi-automatic cannon rifle shoots explosives equivalent to 100 lbs. of TNT. Goes from vehicle to robot in .4 seconds.
History
Notes
Twin Twist transforms into the mighty DRILLDOZER.
Twin Twist once took on Trypticon alone and didn't die!
Possesses the coveted Star Of Recognition ..whatever that means.
Logs
LogGrabber - 15 page(s) found in 0.077 sec. (2017/07/21 04:44:55)
Players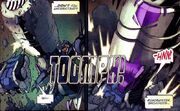 Current:
Formerly:User:TuTail, Kenya
Ad blocker interference detected!
Wikia is a free-to-use site that makes money from advertising. We have a modified experience for viewers using ad blockers

Wikia is not accessible if you've made further modifications. Remove the custom ad blocker rule(s) and the page will load as expected.