Name
Vortex
Faction
Decepticon
Function
Interrogation
Alt Mode
Helicopter
Type
FC
Profile
"I'm Vortex, fly me- if you dare."
Gives a ride to remember -- in your nightmares! Takes Autobots on dizzying, death-defying flights to scare information out of them. As helicopter, goes 300mph with a range of 1200 miles. Whirls rotor blades to create 200-300 mph wind funnels. Uses semi-automatic glue gun. Combines with fellow Combaticons to form Bruticus.
History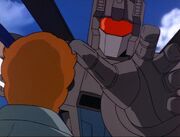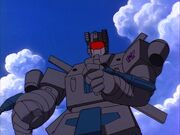 Notes
An early player of Vortex portrayed him as a bit too insane for the tastes of staff at the time.
You wouldn't think that glue would be much of a weapon when everyone else is packing particle accelerators and flamethrowers and earth-ripping piledrivers, and you'd be right.
Vortex in the picture has obviously spent a lot of Advancement Points on making himself badass.
Swindle must not like Vortex very much to not at least tell him about the glue thing.
Thankfully the TACS version of Vortex is a lot better.
Logs
Players
The most recent several Vortexes were all played by "Amy," who eventually timed out each time after spending a LOT of time in the medbay (on purpose).
June - October 2009 : Chuck
Ad blocker interference detected!
Wikia is a free-to-use site that makes money from advertising. We have a modified experience for viewers using ad blockers

Wikia is not accessible if you've made further modifications. Remove the custom ad blocker rule(s) and the page will load as expected.